Photogrammetric Control and Mapping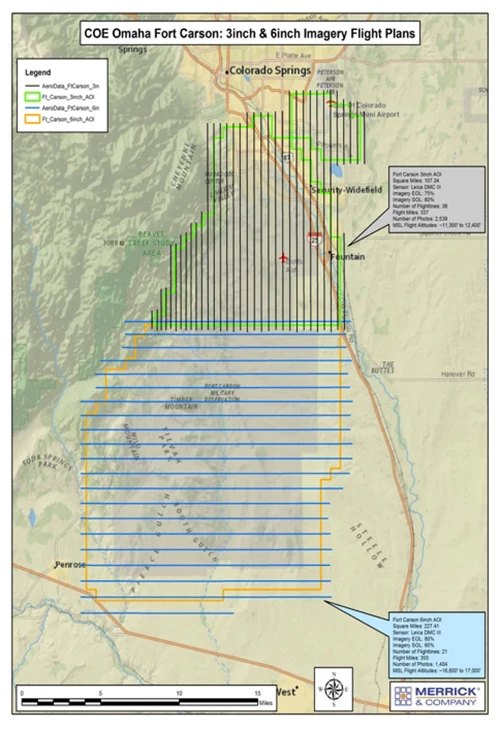 PROJECT OWNER:
United States Army Corps of Engineers (USACE), Omaha District
SURVEY PROJECT:
2019
SERVICES:
Control
The Fort Carson Directorate of Public Works (DPW) is charged with the management and stewardship of Fort Carson's real property, infrastructure, facilities, and the environment. To assist with this charter, DPW requires aerial imagery to support the installation's Geographic Information System (GIS).
Midland Surveying teamed with Merrick & Company to provide Mapping services. Midland provided overall task order management and completed field control surveys. Merrick planned and managed the aerial mapping aspect of the project. This included organizing and coordinating all aerial mapping activities with the appropriate authorities in highly restricted airspace, conducting over-flights and collecting aerial photography, preparing and organizing the photography to complete the final products.
The Digital ortho project totals 837.83 square miles over the areas of Fort Carson and Pinion Canyon Range. Fort Carson consisted of 107.33 square mile of 7.5 cm pixel and 227.41 square miles of 15 cm pixel resolution images. Pinion Canyon consisted of 59.46 square miles of 7.5 pixel and 443.63 square miles of 15 cm pixel resolution images.
Deliverables included a combination of 3" and 6" Orthophotos over the main installation and Pinion Canyon Maneuver site, DTM/DEM as a surface for the Digital Orthophotos, SDSFIE-compliant GIS geodatabase of features using ESRI products, and a GPS network report.