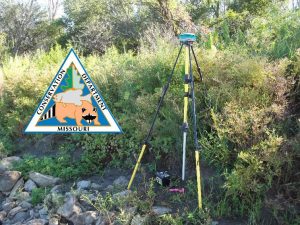 MARYVILLE, MO, January 27, 2017 – Midland Surveying, Inc. has a long and successful history of providing land surveying services to the Missouri Department of Conservation (MDC) through a qualification questionnaire process. Most recently, Midland Surveying was selected to restore 4.5 miles of conservation boundaries in Atchison and Buchanan Counties in Missouri. Cadastral surveying will be completed in the Missouri River bluffs in accordance with MDC standards and include recovery, restoration, and the reestablishment of multiple government section corners.
Owners Adam Teale, PLS and Rick Mattson, PLS are the County Surveyors in Atchison County and Buchanan County, respectively. Midland Surveying primarily provides cadastral land surveying services to MDC, but has served as the prime contractor for Photogrammetric and LiDAR contracts as well.
For more information on Midland Surveying, Inc., please contact our office at (660) 582-8633.