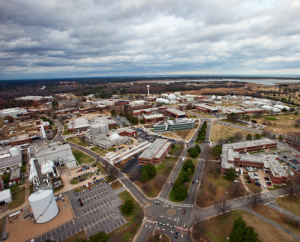 MARYVILLE, MO, February 9, 2018 – The Midland GSS JV team at NASA Langley Research Center (LaRC) in Hampton, VA is actively maintaining Center maps with the use of unmanned aircraft system (UAS) technology. Operators of the UAS can obtain detailed aerial photos to document changes to structures and the landscape, as well as new construction throughout the Center, which encompasses 767 acres of land.
As stated on the NASA LaRC website, the Center has over 20 major research facilities and approximately 150 shops, administrative facilities, and support facilities. Midland's contract with NASA Langley to provide Geospatial Support Services includes managing and maintaining accurate geospatial data regarding all of these facilities to ensure efficiencies in day-to-day operations throughout the Center.
Follow this link to NASA Langley's Facebook page to see the UAS in action, operated by Berch Smithson with Midland GSS JV.