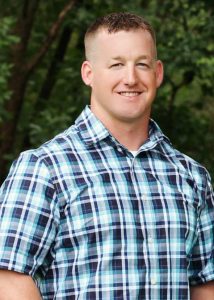 MARYVILLE, MO, May 5, 2016 – Dustin Shepherd, a Survey Party Chief for Midland Surveying, Inc. in Maryville and St. Joseph, Missouri, has earned enrollment as a Land Surveyor-in-Training (LSIT) with the Missouri Board for Architects, Professional Engineers, Professional Land Surveyors and Professional Landscape Architects. Enrollment into the program is achieved by completing 12 hours of college coursework in land surveying, passing the Fundamentals of Surveying (FS) exam and submitting an application for approval by the Professional Board.
Dustin has been with Midland Surveying, Inc. since 2003 and currently works in the St. Joseph office. As a Land Surveyor-In-Training, Dustin will work for an additional four (4) years under the supervision of a licensed land surveyor which will qualify him to take the Missouri State Land Surveyor's Exam to become a Missouri Professional Land Surveyor (PLS).
Dustin lives in Maryville with his wife Katie and their two children.