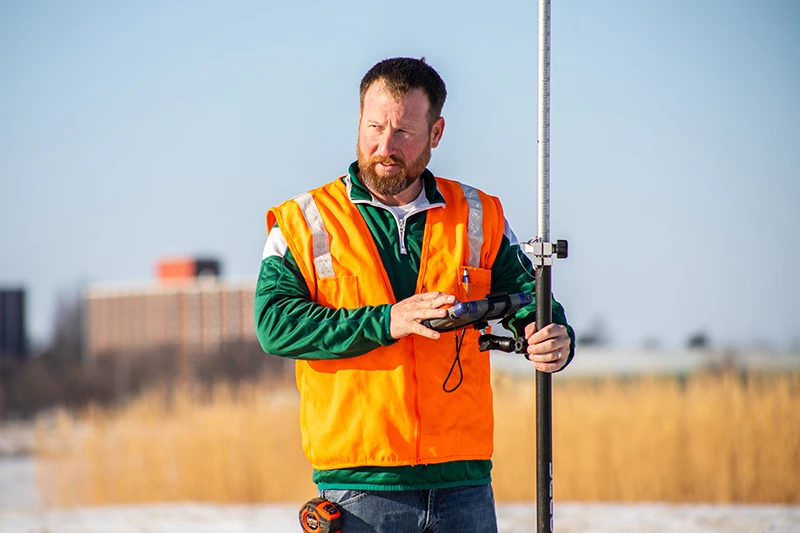 What Is a Control Survey?

The establishment of a series of horizontal and vertical control monuments for mapping support or to aid in future phases of project development.

Midland Surveying, Inc. provides a variety of control surveying services for various federal, state, and local agencies, as well as multiple aerial flight firms. Our involvement ranges from constructing first order control stations to performing Static GPS observations and data processing to determine precise horizontal and vertical positions for monuments. Midland Surveying has experience in target placement, LiDAR checkpoints, photo identifiable objects, ground truthing, and recovery of geodetic control stations.
Our services include aerial ground surveying support for numerous county and municipal photogrammetry projects.
2023 (Ground Control and Targeting for 1,200 acres along Illinois River, LaGrange, IL)
2019 (Photo Control and Targeting for 334 square miles at Fort Carson, CO)
2019 (Photo Control and Targeting for 500 square miles at Pinion Canyon, CO)
2016 (Certification of Continuous Operating Base Station and Installation of High Accuracy Reference Monuments, Schiever AFB, CO)
2012 (Ground Control for 1,200 square miles along Missouri River)
2009 (LiDAR checkpoints for 17,677 square miles in Northern KS and Eastern NE)
2006, 2007, 2009, 2012, 2013 (Photo Control and Targeting for MoDot)